Why Choose A Custom PC Build?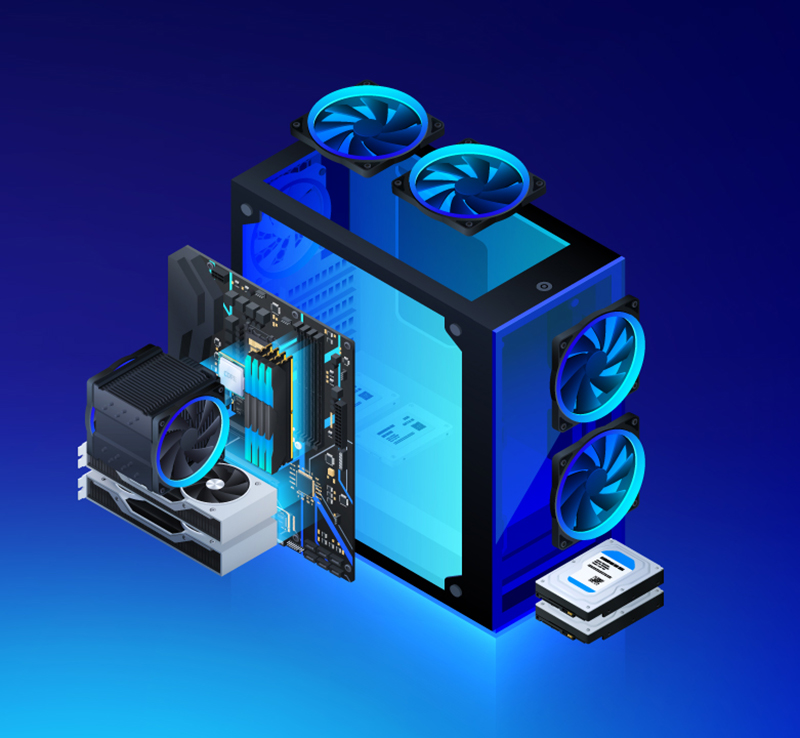 If you are in the market for a new computer than you have a few different options. First and foremost you can purchase a pre-built system from an electronics store or online. All you need to do is take it out of the box and turn it on. That being stated, there is a far better option. You can purchase a computer that is customized just for you. So why choose a custom PC build over a store bought model? There are actually a number of reasons. In essence, a custom PC build is a far better option if you plan to use your new computer for gaming purposes.
A custom PC build is also better for people that simply use their computer on a daily basis. Did you know that one of the biggest reasons to purchase a custom PC build is because they typically have the best price to performance ratio? That means you will end up getting the most computer for your money. Although you would think that a customized computer is more expensive when compared to an off the shelf model, the exact opposite is actually true. For example, when a store sells you a computer they have to pay the manufacturer a wholesale price.
The store then marks up their purchase price of the computer in order to cover overhead, such as rent, employee payroll, and advertising costs to name a few. Stores mark up the cost of the computer further by tacking on their profit margin. When all is said and done, you end up paying more and getting less since the markup is passed on directly to the consumer. On the other hand, when you purchase a custom PC build from a small yet professional computer build and repair company, their overhead is far less.
For example, the parts they use to build your computer cost them significantly less money than the out of the box computer costs the electronic retailers. In addition, your local computer build and repair company typically has a lot less overhead, especially when compared to the big box retailers. Even if you end up paying the same amount of money for a custom PC build that you would pay for a similar off the shelf computer, you will end up getting a whole lot more with the custom computer. For example, the PC build will typically have more memory; more hard drive space; and a significantly faster process speed.
Just like an off the shelf computer, you will receive the custom PC build ready to use. Simply pick it up at the shop or have it delivered. Your next step is to unpack it and plug it in. A custom PC build is the perfect choice for someone who wants the most for their money, but doesn't have the knowledge and or time to build a computer from scratch on their own.
At Hamilton Computer Repairs we are dedicated to professional service and quality custom computer builds and repairs. We are able to get your files back when all seems lost! Call or bring in your device so that we can assist you or talk to you about your options.  We realize that life happens which is why we also offer house calls for those who have full time jobs and no extra time to get out of the office. With our office conveniently located in Worcester, MA we're a locally owned business with fast repair times and reliable services. Please contact us for a consultation or a quote today!